Frequently Asked Questions
As we move forward with this project some questions keep coming up. We are working hard to collect those frequently asked questions and provide answers. If you don't see an answer to your question below, please contact us and we will get you an answer asap and likely add the question to this page for other users. Thank you.
Membership Registration Questions
What is the difference in membership for Nonprofits an Individuals?
We ask everyone to register as an individual, unless you are representing a registered nonprofit animal organization with an EIN (employer identification number). Having these 2 types of membership accounts help Linked Up For Animals maintain a separate mailing lists for contacting Nonprofit Accounts and helps to build the LUFA Pages Directories.
Nonprofit membership accounts will be featured in our LUFA Pages Nonprofit Directory. Information from the nonprofit membership application will be displayed in a directory listing. Nonprofits can add images or update your listing. please login and then visit the Nonprofit Directory Page.
Individuals that are connected to other animal organizations (not yet register as Nonprofits) are encouraged to start a group or create a page for the organization on LUFA Social
How do I activate my account?
Accessing LUFA Social
What is the direct link to LUFA Social?
How do I login to LUFA Social?
Is there a way to stay logged in to LUFA Social?
How do I change my profile pic (avatar) photo?
How do I change my profile cover photo?
How can I change my notification preferences?
Posting to LUFA Social
How do I post photo to LUFA Social?
This can be done from both your personal profile and the news feed in the same places you post a status. Before typing out a statement or caption to your photo you must upload the image.
1. Look for the camera icon and click it. This will prompt you to select an image.
We are currently limited to posting 1 image at a time so they will display correctly. You can add more images in subsequent posts or you can add them in reply comments to the original post.
2. You can browse to find your desired image or you can drag and drop an image into the specified area.
Square images sized 500px wide by 500px tall will display well.
3. Once the image has uploaded, you will see a thumbnail image with a link to remove it below the thumbnail. Now you can type a message or caption in the text box
4. Click the Post button to complete the post.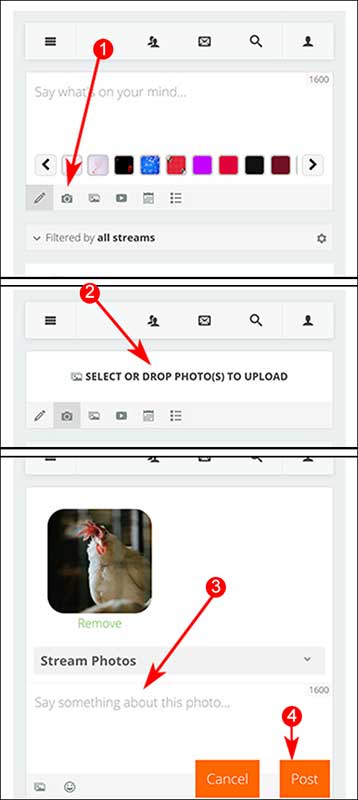 How do I post a video to LUFA Social?